Listing essentials to be taken care of before you emigrate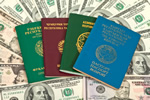 Making a list of what needs to be done before you leave is as important as your list of what to do when you arrive, although most soon-to-be expats find it a tedious chore!
Moving overseas is both scary and exciting, but dwelling on the challenges and experiences of the future can't be allowed to interfere with essential tasks before you leave. Firstly, dependent on your destination, getting important mail from the home country might be tricky. Asking a family member or friend to act as your mailbox makes sure important letters are attended to, as well as giving you an address in your home country.
Unlocking your cellphone before you leave and getting a local SIM card on arrival is the way to avoid extortionate roaming charges. If you're relocating courtesy of your employer, your visa and residency should be sorted, but familiarising yourself with the exact visa requirements is the best idea. Regulations tend to change fairly often, and staying up to date can help in an emergency. In order to avoid the millions of online rental scams, getting a permanent home once you're there and can view apartments in person is highly recommended.
Although this may sound obvious, you'd be surprised how many expats arrive without a multi-country adaptor for their electronic devices. Stock up on home country products you love, especially in the cosmetics, hair care and non-perishable food sectors, provided you're allowed to import them into your new country. Most importantly, remember to tell your bank and credit/debit card providers - twice at least - that you're leaving for a stint overseas. Being locked out of your account just after arrival is as bad as it gets. Also, make sure you've at least one card without foreign transaction fees.
For emergencies, a small stash of your home country's currency can be very useful, and leaving a copy of your passport and its visa pages, credit cards and official ID with a trusted friend or family member at home can be helpful in a crisis. Finally, if you're relocating to an exotic, steamily hot third world country packed with unknown flora, fauna, insects, creepy crawlies and rare diseases, make absolutely sure you've had all the right vaccinations as well as packing an emergency medical kit.