British expats in Germany rush for German citizenship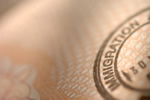 Record numbers of Britishers living and working in Germany have now taken up German citizenship.
German authorities are reporting a significant increase in the number of UK expats who've now taken up German citizenship and are citing Brexit as the reason. Last year, a record number of 7,493 holders of British passports became Germans, a 162 per cent increase on 2016's figures. In 2016, the year of the referendum, an even larger leap of numbers was the result, with the 2,865 citizenship applications from Britons showing a massive 361 per cent increase over the 2015 total of 622.
The German Federal Office of Statistics, known as Destatis, said it's been monitoring the trend with interest, noting its connection with the Brexit vote. Brits are now second only to Turkish nationals in the citizenship stakes, with the trend expected to peak again during 2018. Interestingly, some nine per cent of last-year's successful applicants were Jewish descendants of those persecuted during the Nazi years. British nationals who take on German citizenship whilst the UK is still a part of the EU can retain their British citizenship should they so wish, although those whose approvals come in after 29 March next year will have to surrender their British passports.
One British woman who's lived in Germany for 30 years and works as a translator told the media she's relieved she's been accepted as she'd been worried about losing her right to live and work in the country she now calls home. She's a founder member of the anti-Brexit campaign group British in Germany, and believes many more Brits are now deciding to opt for German citizenship. She's sure that business people in particular are now very nervous about losing their EU passports due to the effect it will have on their working lives, adding many more are finally realising putting their faith in politicians is not a good idea.