Checklist for ensuring a trouble free relocation from the UAE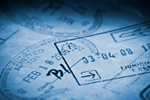 If you're relocating from the UAE, it's essential not to ignore crucial must-dos before you board the plane.
As expat relocations from the Gulf States increase, professionals whose home it's been for at least several years and maybe many more are struggling to cope with the bureaucratic necessities of leaving. Major moves are everyone's worst nightmare, no matter where from or where to, making it easy to forget essentials such as cancelling rental contracts and paying final bills. Almost everything is time-dependent, and time is always too short when you're moving your entire life across continents.
The first must-do is to cancel your rental contract at least 90 days before either your leaving date or the date of your contract's expiry. Getting this done in time means you'll have no problems with getting your full deposit refunded. It's also important to leave the property as you found it, including getting repairs done if necessary. Repaying and closing your UAE credit cards and loans is next, along with closing your bank accounts, and remembering to get a no-liability letter from the bank protects you from any come-back.
Opening an offshore account will give you a home for your savings whilst you're in transit and enable you to make essential payments.
Given the cost of long-distance shipping, selling your car is the best idea, and listings should be made at lease several months before leaving. More importantly, if you've children in school, the removal process should begin two to three months before your scheduled departure date. Selling or shipping your household goods are options no homemaker enjoys, but holding a garage sale and donating what's left is probably the easiest way to cope.
Next on the list is closing your utilities and telecom accounts, paying the final bills and getting your deposits back. Importantly, you should get a copy of your UAE credit report and make sure it's accurate before you store it somewhere safe. This will ensure you've not forgotten any bills and don't have any pending credit card payments. It'll also show all bank records of your time in the UAE have been updated noting your final payments.
Cancellation of your and your dependents' UAE residence visas must be done between two and four weeks before you leave. After cancellation you'll have 30 days to leave or risk paying a fine for overstaying. Once you've made sure you haven't missed anything important, it's time to look forward to another chapter in your life.