Ten Brit expat families lose hope as shipments confirmed lost during collision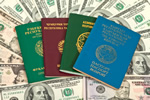 Expats who'd shipped their goods just before relocating back home from the UAE have finally been told all their belongings have been lost doe to last month's collision between two container ships at a Karachi port.
After hoping against hope their precious belongings weren't in the 21 containers knocked overboard during the collision, ten families are now in shock after being told all their personal goods are on the sea bed just outside Karachi. The collision between the two giant container vessels happened on March 19, with the relocating British expat families' goods having left Dubai on March 13 en route to the UK port of Felixstowe.
Former aerospace manager Richard Zevermona told local media he'd lost family heirlooms and also his father's ashes, adding he'd arranging for the shipping weeks before they were actually loaded onto the doomed vessel. He believes the removal company's delay in loading was responsible for the family's loss and should be held liable.
The family's plan was to send almost everything back in good time before they left, in order that they could arrive back in March at the same time as the shipment, which included his baby's cot and all the beds. Once the family was back in the UK, Mr Zeverona contacted his shipper Acorn Movers and was told his goods still hadn't left Dubai. He's now taking legal advice on a compensation claim, and still hasn't heard from his insurers.
Kevin and Lyn Keith also used Acorn Movers for their relocation from Dubai to Brighton. The couple have also lost everything, including a valuable painting and four guitars. They were fully ensured, but haven't yet heard from the insurer as regards settlement or how long it might take. Acorn had also given them an incorrect tracking number which indicated their goods were on another container ship, so they weren't worried when the news of the accident was published. Acorn is, unsurprisingly, in total denial as regards liability as 'the incident took place 'at sea', and are refusing to be held accountable for any losses.