An expats guide to transporting antiques and valuables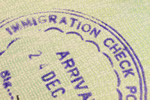 Whether you're expatriating for work reasons, retirement or just needing a change of scenery, if you've collections or valuable antiques you'll need to take special care of them.
Moving overseas along with your household goods is a stressful experience, becoming more so if you've valuables, art or a much-loved collection to transport. There are two options, the first of which may not be the best idea if you've no experience of packing and shipping antiques, art and similar valuables. However, do-it-yourself can be done, especially with the plethora of modern packing materials and strong plastic and cardboard storage boxes now available. The second option, obviously, is to engage a specialist shipper experienced in packing and transporting art and valuables, but the cost maybe somewhat off-putting to the average would-be expat collector.
Breakables can be encased in bubble wrap, normally available in large rolls via the internet or a local supplier, carefully taped and placed in inexpensive, strong plastic boxes. Packing each individual parcel round with polystyrene beads protects against damage if the box is dropped, and securing the lid with waterproof tape placed around the entire box will keep it closed if the load shifts as well as preventing the curious from investigating its contents. Artwork isn't quite as easy, but bubble wrap is your friend, as are spare duvets and cushions, and protective cardboard sheets can help.
Small pieces of furniture can also benefit from the bubble wrap treatment, finishing up with more strong cardboard sheets. Don't forget to separate heavy objects, however small, from glass and ceramics when you're loading up your boxes. For important paperwork and suchlike, strong shipping boxes similar to those provided by Fedex are the best answer and, for large, valuable articles, you may need to have customised packing specially made. Of course, accidents do happen, but insurance can lessen the blow. By packing everything yourself, you'll save on the total cost of shipping and can easily hire a container for your goods from a reputable shipping company.
Checking online as to import regulations in your destination country is essential – for example, nude art is illegal in the Arab States and several Asian countries limit the importation of Buddhist images. Antique weapons may well need a permit, and modern weapons may be forbidden. You'll need to list everything for the customs declaration, although descriptions can be general in nature if you're not sure. Wherever you are, once your shipment arrives you'll need to pay some form of import duty, with this task more easily achieved if you've a knowledgeable local customs agent. The amount you'll pay will depend on local laws and their interpretation by your agent.