UK and EU expat rights form part of new Brexit agreement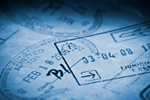 Brexit transition terms have been agreed between David Davis and Michel Barnier during talks, although several issues remain unresolved.
Breaking news on 19th March suggests a large part of the proposed Brexit agreement covering the transition period has been agreed between the two negotiators. Remaining issues include the Northern Ireland border, but details of the rights of UK and EU expats also seem to have been part of the agreement. The deal is being reported as including an emergency option avoiding a hard Irish border by allowing the North to remain in the customs union and the single market.
For British expats living in Europe and EU expats in the UK, the agreement sets out the rights of both the 4.5 million EU citizens in Britain and the 1.2 British expats living in Europe. EU citizens coming to the UK during the transition period of March 29 2019 to December 2020 will be granted the same rights as those who arrive before Brexit is finalised next March 29. Both parties to the terms of the agreement are hoping it can be signed off by other EU member state leaders at this week's EU summit.
According to Barnier, the new draft text is a decisive step towards an orderly Brexit withdrawal, but isn't 'the end of the road'. According to David Davies, the agreement should give clarification and certainty for businesses, adding it also included safeguards related to fishing quotas during the transition period. Britain will also be able to negotiate, sign and ratify trade agreements during the transition period, and both parties are hoping to be able to focus on an ongoing, positive relationship between the EU and the UK. However, according to Brexiteers, 'nothing is agreed until everything is agreed'.