UK Foreign Office warns expats and tourists over local laws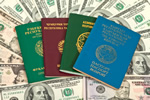 The British Foreign Office is urging expats and tourists to clue up about local customs and laws in order to avoid being arrested, jailed and deported.
Formerly inaccessible far-flung destinations are now regular hubs for tourists as well as expats due to the ease of air travel in the 21st century, but increasing numbers of media reports describe arrests and jail time caused by a lack of knowledge of local laws and customs. During 2017, the FCO intervened in some 23,000 cases of British citizens being locked up overseas after falling foul of laws they weren't even aware existed.
Cases which hit international news outlets include a Briton in Dubai who was saved from a jail sentence of three months simply for accidentally touching a Dubai citizen's hip, two Americans who were arrested, jailed and deported from Thailand for taking nude selfies outside a Buddhist temple and a British female who was deported from Sri Lanka because of her Buddha tattoo. The FCO is urging all travellers as well as expats to check out their travel advice pages before it's too late.
The Gulf States have a plethora of laws based on their restrictive culture which can easily trap unwary foreigners before they realise they've landed themselves in big trouble. Swearing, being alone with a woman who's not his wife, making rude gestures, being affectionate in public, wearing clothing deemed indecent, any behaviour believed to be disrespectful of Islam and even photographing citizens without their permission can land unsuspecting foreigners in jail or on the next plane out.
Thailand's lese-majesty laws are the most likely to land foreigners in real trouble, as they forbid any statement believed to be disrespecting the country's monarchy, even if made as a joke. There's a long list of places where drinking alcohol is forbidden, and carrying your passport at all times is mandatory. Gambling is illegal, at least for foreigners, and anti-drug laws are harsh and include the death penalty. Respectful dress in and around temples is the law, and vaping equipment and e-cigarettes can result in a 10-year prison sentence. From April 2018, smoking on Thailand's beaches will be illegal.