Sneaky Brit government excludes referendums from votes for life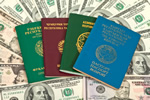 Long-term UK expats are furious the new votes for life bill doesn't give the right to vote in referendums.
For expats who've lived long-term overseas, the chance to have votes for life may well be on the way after many years of protesting and lobbying against the 15-year disenfranchisement law. However, the UK government's commitment to finally erasing the rule may have come too late for many who were desperate for the UK to stay in the EU but were barred from making their wishes known. At least, they may have thought, we'll hopefully soon be able to vote in a second referendum if and when it occurs.
However, as so often in politics, the devil is in the detail, with said detail now crushing any hope for long-stay Britons in the EU affected by a hard Brexit being able to state their case via the ballot box should a second referendum take place. Yes, long-term expats overseas will soon be allowed to cast their votes in general and local elections, but are to be excluded from voting should there be another referendum.The Overseas Electors Bill, due for its second reading in two weeks' time, is likely to pass, but the government sleight of hand which failed to mention the exclusion won't be easily forgiven. It's believed at least 800,000 expats in EU member states were forbidden from voting in the Brexit referendum, although the figure is estimated to be far higher as many haven't registered locally.
In the Brexit referendum itself, some 16,141,241 Britons voted Remain, with !7,410,742 opting to leave. In the admittedly unlikely event of every registered long-stay expat across Europe actually having voted for Remain, the total of votes for staying in the EU would have reached 16,941,241 – a difference of just 470,000. It's no surprise the government doesn't want those most likely to value the EU's four freedoms to be able to vote in referendums especially as the political chaos surrounding the negotiations seems to have persuaded some UK-based Leavers to become Remainers.