Expats in Thailand concerned about visa overstayer checks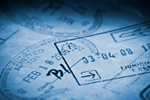 Expats living in Thailand are coming under increased surveillance as regards visas and permits to stay
For several decades, Thailand has been the all-time favourite Southeast Asian country, especially for older expats and retirees. Up until the last few years, staying permanently in the country was relatively straightforward, with a number of visa options suitable for business start-ups, singles, married couples and pensioners from various first-world countries including the USA and the UK as well as Australia.
It has to be said that Thailand's generally user-friendly visa regulations attracted a number of unwelcome long-stay visitors with illegal activities on their minds, although the same could also be said of many other destinations popular with expatriates. However, since crackdowns began in 2016, many long-term expats are now beginning to feel they are all being regarded as undesirables who must be carefully watched in case they breach the country's ever-changing immigration rules.
Last week, Hua Hin's long-established expat community was hit with another example of the lack of trust Thailand's authorities are now believed to have as regards foreigners. The local tourist police began visiting the homes of expat visa-holders in a drive to identify those who'd overstayed their permitted time in the country. One expat told local online media the police arrived at his home with a long list of names, saying they were checking for overstayers.
The officer was polite, checked his passport and left, but reports soon came in of others who'd had the same experience. Even although those visited were cleared, the move has caused concern as the penalties for overstaying are now harsher than before, involving blacklisting, deportation and bans on re-entry.
In Thailand's main expat hubs, the vast majority have their own bought and paid-for homes, many now have Thai wives and children, and mistakes can be made without any intention to deceive or avoid the correct visa procedures. Official comments in the media have included suggestions that overstayers are linked to foreign criminals and organised crime.
Last November, a ministry spokesperson claimed some 100,000 overstayers were estimated to be at large and hiding out in the Kingdom, although a subsequent report in early January estimated the true numbers at around 8,000. According to officials, it's not just Hua Hin that's affected, it's also Koh Samui, Phuket, Bangkok and Pattaya. Expats on valid visa extensions are worried, with one stating on social media he found the checks offensive.
A different take on the checks may be happening in other Thai expat hubs, as immigration officers have been visiting or phoning widows and widowers whose partners have died, implying the deceased are on overstay. Most bereaved foreigners believe the information given to their consulates is passed on to local immigration offices, and are distressed at having to explain the situation and produce a death certificate. Unfortunately, the level of Thai spoken by the average expat and the level of English spoken by many immigration officers doesn't make the situation any easier.