Long stay expats and new arrivals urged to register with the Spanish padron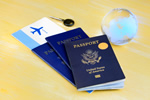 If you're still determined to emigrate to Spain before Brexit is finalised, you really do need to register with your local authority soon after you arrive.
Local authorities in Costa del Sol towns popular with expat Brits are growing ever more concerned about the number of unregistered UK expats in their locality. Recently released official figures have revealed at least 16,000 expatriates who are still unregistered. Spain's National Institute of Statistics' January 1 figures show 1,630,615 Britons who've officially registered as residents, a fall of 16,000 over last year's statistics. In addition, over the past decade, the expat population of the Costa del Sol has grown by around 80,000 but only 20,000 have registered.
The drop in registration is despite local authorities' efforts to inform new arrivals of the benefits of registration and the setting up of several offices dedicated to specifically answer expat residents' questions about Brexit and its likely effects. Municipal officers believe UK expats resident in Spain aren't signing on to the 'padron', as it's called, due to Brexit uncertainty, but most aren't aware of the financial difficulties they may be causing to their chosen districts.
The padron provides statistics from which the official total of residents in every region of Spain is taken, and is used by the national government in Madrid to calculate the amount of government money given to every province. Areas with a high tourist presence will have a far greater population level than is actually recorded as visitors aren't required to register, meaning that less money than is needed will be dispensed by the government.
It's therefore essential for expat residents to register as they, in addition to the Spanish community, will benefit from the extra government subsidies. Already, local authorities in a number of towns with populations of over 20,000 are warning budget cuts might result as government grants are falling far short of the amounts necessary to provide much-needed services.