Employers should address the needs of relocating expat families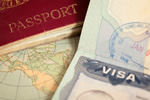 Being offered a lucrative overseas relocation can be life-changing in many ways, but if you're taking your family with you your children's needs must be taken into consideration.
Most kids love the excitement of a new country far more than their parents who've the responsibility of making sure they don't cross cultural norms or annoy the neighbours, but is your employer willing to help by providing support in the early days of readjustment? Some companies with previous experience of the effect of childcare concerns on expat employees may well consider offering assistance, especially as it's in their interest to avoid a failed assignment.
The highest risk to younger family members is to adolescents who resent having to move from a familiar location to an unfamiliar land. One long-term Danish study involving 1.4 million adolescents found an increased likelihood of problems in adulthood in subjects who'd moved more than once during their teenaged years. The study revealed the earlier the moves, the worse the impact on the dependants once they'd reached adulthood.
Luckily, for expats with enlightened employers there are many practical steps which will support the wellbeing of expat professionals and their families. Supporting family groups is in the best interest of employers, and can include encouraging expat staff and their families to join expatriate groups and local clubs as well as setting up an expat buddy support scheme to help newly-arrived families adjust to the cultural and practical differences in their new countries. Organising play dates for younger children and sporting events for the whole family can help newbies feel at home whilst overseas, and employee assistance programme helplines can ensure new workers contribute productively in the business environment without having to worry about their families.