USA based ETFs and investment trusts delisted by Hargreaves Lansdown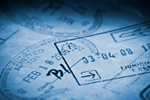 US expats living and working in the UK could be hit by the removal of exchange traded funds and investment trusts from a popular investment platform.
Hargreaves Lansdown's fund supermarket gives a convenient, inexpensive way for US expat working overseas to save for their eventual retirements through investing in exchange traded funds and investment trusts. The news that literally hundreds of ETFs and investment trusts have been summarily removed from the platform is likely to affect around 180,000 USA expats living and working in the UK.
New regulations covering the so-called packaged retail insurance based investment products (PRIIPs) were introduced on January 1, leading to the funds being immediately pulled as they were unable to comply with new European rules covering the disclosure of risk information to retail investors. It's expected other fund platforms are gearing up to make similar withdrawals of PRIIPs, with a report in the Financial Times confirming the intention.
The report also stated the sudden delistings were certain to affect US nationals living in Europe whose intentions are to eventually return home after their contracts expire. Complicated double-taxation laws open US expats returning to their country of birth to high tax demands unless careful financial planning has been undertaken.
Of the total of 296 investment trusts removed, 200 are mostly North American in origin, with the vast majority of the 900 EFTs delisted also domiciled in the USA. According to the FT report, Hargreaves believes the removals will not affect clients who've already invested in the deleted funds, adding it's not likely it will be adding similar US products to their platform in the future.