Essential documents for expatriates planning to live in France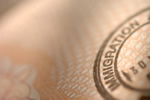 If you're thinking of emigrating to France, you should make certain you've got every essential document you might need.
Getting away from it all in rural France is a long-held dream for many would-be expats, but the sad truth is that bureaucracy follows you wherever you intent to hang your hat. The French version is somewhat different from its English equivalent and no less frustrating, meaning you should make certain you arrive with every single essential document you might possibly need.
France is what's known as a 'process-oriented country', with ticking all the bureaucratic boxes the only way to go if you're looking for a seamless transition to your new life. It's all about being prepared if you're renting an apartment, getting a driving license, applying for a job, healthcare or permanent residence or even getting married. The basics are obvious, and include a valid passport, a visa if you're a non-EU citizen, proof of address including a rental agreement, property deeds, electric and gas bills and home insurance contracts.
Your birth certificate will be needed at least once in France, with getting a copy if you've mislaid the original best done before you leave your home country. Marriage and/or divorce certificates are also needed. If you're heading for citizenship, you'll need to pass the official language test and will be rewarded with yet another certificate. If you're employed, you'll need a DUE document, essential when applying for healthcare, and your job contract must be in French. Payslips should be kept if you're looking to rent a home, and an RIB from your bank containing your account details is also required.
If you're buying a home, you'll need three years' tax returns, also used when you apply for residency or a driving license. Right now, you'll need the EHC card entitling you to state-provided healthcare, but this may well disappear post-Brexit. Private health insurance documents should be kept, as should medical records. Car registration and insurance documents as well as your home country driving license should be kept and, once you arrive, it's a good idea to introduce yourself at your town hall and get an 'attestation' proving you live in the area and the date on which you arrived.