Rerun of dementia tax could cause post Brexit problems for expats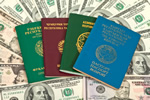 A throwaway comment by a UK government minister about raiding property to pay long-term care bills could prove problematic for UK expats.
The hated, and at present discontinued, so-called 'dementia tax' which forced the sale of property owned by Britons in care homes could soon be re-established. The government's Care Minister Jackie Doyle-Price made a comment at the Conservative party conference which could have been taken as an indication of things to come. Homes, she said, should not be seen by their elderly owners as simply an asset to leave to their children, thus leaving the government to cover their care home costs.
Doyle-Price stated the reality of the issue is that taxpayers shouldn't have to be responsible for propping up those intending to hand their properties on to their offspring whilst running up huge care bills. Her later comment alleged the government is keen to investigate the entire issue of funding 'caps and floors' as part of a consultation on social care system changes. The recent Tory manifesto outlined its intention to take into account property values when means-testing the funding of individuals' care.
Financial advisers working with expats in France believe the proposals highlight the need for focused expat financial planning, especially for those intending to emigrate prior to the inception of Brexit. Brits already living across the Channel should have no need to worry, as they should be able to stay in the French healthcare system post-Brexit. Newly arrived British expatriates may have problems as they will not be able to use the S1 certificate giving access to French healthcare. Other financial and tax planning experts are urging the government not to engage in any more scaremongering on the subject.
Established and potential expats are still on edge over proposals to sell their homes in order to pay for long-term care, with ill-informed comments simply adding fuel to the flames. To be fair to everyone, the government should stop frightening the elderly by coming up with sensible and well-communicated strategies. Many expats may not object to selling their UK property to fund late-life care if a package of proposals is able to allow consultation with those it will affect. In the real world, expats should simply ignore the noise and get on with making their own provisions for costs incurred in later life.