Continued rise in Kiwi immigration totals sparks political fight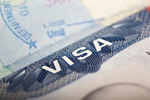 Continuing the trend of startling monthly rises since the beginning of 2014, last month's New Zealand immigration figures now stand at the highest total for 11 years.
The rise in net migrant gains over the last seven months has already led to mutterings in sectors of several Kiwi political parties, with last's months net of 4,500 immigrants just below the February 2003 record of 4,700. According to Statistics New Zealand, the year ending July saw 102,400 new arrivals, a rise of 15 per cent on the previous year.
To make matters more controversial, migrants heading across the water to Australia fell from 29,200 to 7,300 over the same time period. Britain, China, the Philippines and India contributed the majority of the new arrivals, most of whom came to work in the country.
With the upcoming general election due on 20 September, the continuing rise in arrivals is set to cause an issue for several of New Zealand's political parties. Already being pushed is the possible effect on property prices and housing in general, places in schools, beds in hospitals and jobs better given to local people.
The issue is being seen as a gift from the gods by the leaders of the New Zealand First party, who are already claiming that settling 800 people every week for the foreseeable future is an impossible task for local and municipal authorities. A statement by Winston Peters, head of the party, suggests that the government should 'hang its head in shame' for allowing immigration to rise to the present levels.