Survey shows expats in Oz get great property deals but outstrip citizens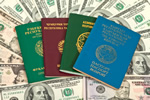 Australia is the all-time favourite for Britons on the emigration trail, especially as regards the real estate market.
The latest Mercers' cost of living survey reveals that immigrants arriving in Australia are getting a seriously good deal as regards property purchases, but are causing locals to be priced out of the market. As the rush to acquire top talent from overseas continues, international professionals are realising that the good life in Oz is easily affordable.
The respected annual survey compares the relative components of a comfortable standard of living in 211 global cities, using 200 parameters including food, clothing, housing, transport and entertainment costs. Sydney and Melbourne are now considered less expensive than in last year's survey, and Brisbane and Canberra are now outside the top 50 most expensive expat cities.
However, the good news for highly skilled immigrants is bad news for young Australians attempting to break into the real estate market. An increasing number are effectively locked out due to the pressure of demand from investors and incomers driving up prices.
Many Australian cities now have little to offer as regards affordable first-time buyer housing options, and rentals have seen a similar increase. Over the past year, the median house price across the country soared by almost 11 per cent, with Sydney seeing increases of 17 per cent.
Apartment rentals are outperforming house price rises, attracting buy-to-let investors as a result, and Australia's reputation as a relatively safe global investment hub is drawing interest from wealthy non-resident foreigners. Inflation in general reflects the demographics of the financial markets, and makes an affordable work-life balance more difficult to achieve for local people.