Irish group urges support for US immigration reform on St Patrick?s Day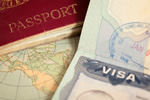 As Irish expat communities across the USA celebrated St Patrick's Day with green beer, parades and Irish stew, an Irish politician back in the auld country urged support for the USA's immigration reform movement.
Martin Conway, Irish PM for County Clare, believes that Irish Americans have always played a crucial part in the development of the USA. He's urging all Irish immigrants in the US, whether legal or undocumented, to push for the immigration bill to be passed in the near future.
Conway considers that Irish Americans should strongly advocate the comprehensive reforms, not only for their undocumented countrymen, but to honour their ancestry and in consideration of would- be Irish migrants in the future. Almost 12 per cent of America's total population are of Irish ancestry.
According to Conway, many undocumented Irish immigrants in the USA live in daily fear of discovery and deportation. He says he feels strongly for those in that situation and for their families, and hopes that the push for immigration reforn will finally come to a positive conclusion.
An estimated 50,000 undocumented Irish are living in America, according to the Irish Lobby for Immigration Reform (ILIR). There have been several attempts in the past to regularise their status, including a bipartisan effort led by the late Senator Ted Kennedy and Senator John Mc Cain, none of which were successful.
Since a bill in 1965 reversed allocated visa numbers to Europe and gave them to Latin American immigrants, it has been almost impossible for Irish migrants, to enter the US legally. According to ILIR founder Niall O'Dowd, far fewer Irish than Mexicans have been able to gain permanent residency status since the rules changed.