Canada changes fee structure for its temporary visitor visas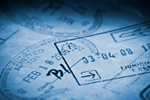 The Canadian government has announced a change in its fee structure for those arriving on temporary visitor visas.
The country's Minister of Citizenship and Immigration, Chris Alexander, explained the changes would harmonise fees charged for multi- and single-entry visas issued under the temporary resident visa scheme. From yesterday, applicants for the TRV single entry visa will be automatically considered for a multi-entry visa allowing them to come and go for up to ten years, staying for six months on each entry.
The processing fee for the new visa is being slashed from CA$150 to CA$100. At the same time, overseas students applying for study visas will need to pay CA$150, up from CA$125, and those applying for work permits will be charged CA$5 extra. According to Alexander, the changes are aimed at the needs of international travellers as regards flexibility, convenience and speed of processing.
The increase in fees is the first in 20 years, and is expected to lower the tax burden on Canadian citizens as it is more representative of the true cost of visa processing. Over 35 million visitors arrive in Canada every year, and visa processing charges as they now stand are still set lower than those charged by New Zealand, Australia, the UK and the USA.