Husband and wife separated by UK Border Agency to be reunited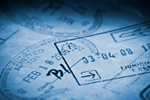 A couple who met and married later in life and were separated by the UK Border Agency and its new rules will now be reunited in New Zealand.
After a three-year romance and a wedding last year, Gavin and Sarah Clarke were hoping to live happily ever after in their Withernsea home. Their dream was shattered when Gavin, a 59-year old Kiwi, had his application to remain in the UK denied due to newly introduced immigration rules which determined Sarah did not earn enough to support him.
Gavin was given two alternatives, either to leave the UK of his own accord or to be deported and banned from returning for a period of 10 years. Gavin is a qualified chef and has also worked as a painter and decorator, and Sarah has grandchildren and other family in the UK.
After an unsuccessful appeal against the decision she was told by officials from the UK Border Agency that, if she wanted to stay with her husband, she would have to move to New Zealand. Gavin had no alternative but to leave his wife in the UK and return alone to New Zealand to pick up his life.
For four months, the couple lived apart, but the best Christmas present ever came after Sarah's application to join her husband was approved by New Zealand Immigration. She now has just six months to sell their house in Withernsea and emigrate in order to comply with the conditions of her two-year visa, which can then be extended.
Gavin, however, can't forgive the UK Border Agency for treating him like a criminal and forcing Sarah to leave her country of birth and her family to follow her heart and be with him. He's just praying that the house can be sold in time to have his wife join him.