Conservatives warn 400 middle class professional emigrate every day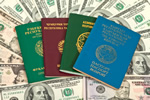 More than 400 Britons are giving up on the UK and leaving every day, according to a report.
A report issued by the Office of National Statistics has revealed that over 400 British citizens are leaving the UK every day, an increase of 20 per cent since the start of the present coalition government. A further report by the OECD states that over 1.3 million professional British university graduates are now living overseas, a higher figure than in any other first world country.
Secretary of the backbenchers' 1922 committee and Conservative MP Nick de Bois is telling it like it is, in that the country needs to do a sales job to prevent the brightest and the best of Britain's young professionals from leaving. He says that the 21st century's global, mobile marketplace means that talented professionals can choose to work almost anywhere in the world, including in countries outside the faltering EU.
De Bois adds that there must be an attempt to convince those wishing to leave that they should give Britain another chance. Lower taxes and reform in the broken public services, sector, he believes, are two ways to persuade more professionals to put the country first rather than themselves.
Industries which are losing out to emigration include aerospace, engineering and the creative sector, with the Middle East and Hong Kong seen as a destination for many British graduates looking to improve their lifestyles and wage packets. Another frightening development is that the numbers leaving the UK annually are now almost equal to those arriving from abroad.