Controversial Immigration Bill heads for House of Representatives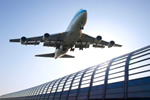 Even although the most comprehensive immigration reform bill for decades has passed the Senate with strong support, its acceptance by the House is in no way guaranteed.
Now considered a major milestone in the development of America's immigration laws, the bill could well present the outcome long awaited by both Democrats and Republicans. However, significant opposition is guaranteed and its enemies are counting on the House's Republican majority to kill it stone dead.
According to Senator Rand Paul, the border security issue will contribute to its demise as, in spite of the introduced 'border surge', Congress has not been awarded a chance to verify its implementation. Reform, according to Paul, needs to be dependent on border security.
Senator Lindsey Graham disagrees and is in favour of the reforms, although several more of its supporters are concerned about the number of years needed to secure the borders. The sheer size of the bill is also being seen as problematic, with House Republicans arguing for a piecemeal approach with digestible sections.
Republican Mike Kelly is concerned that rushing it through in one piece will mean few will have had time to read, digest and form opinions on its contents. Republican Joaquin Castro, a strong supporter, is happy about the strong Senate vote in the bill's favour, although he's worried about the possibility of a 'Hastert Rule' being introduced by the Speaker of the House.