Rock of Gibraltar to become latest haven for wealthy migrants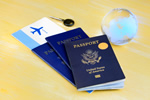 A symbol of solidarity for centuries, the Mediterranean rock holding the tiny country of Gibraltar is set to become the next haven for wealthy would-be migrants
.Once referred to by Winston Churchill as the 'motherland penisula', Gibraltar, a British Overseas Territory, boasts a robust economy amazingly resilient to the aftershocks of 2008 still resounding around Europe. Its GDP has more than doubled over the past half-decade, and its thriving tourist industry and finance center are a successful part of its anti-recession armour.
Already a home for wealthy foreign investors from many European countries, Gibraltar's recently revealed offer of permanent residency for those with $2 million or more net assets willing to purchase a home on the Rock is sure to result in a rush. Prospective immigrants need to have lived outside the country for at least five years prior to their application and will receive tax breaks as a bonus.
New residents will pay no more than £29,800 on their annual income from all sources, and property buyers will be legible for £11,500 of tax relief over a ten-year period. Interest earned in savings accounts attracts zero tax, and maturing insurance-based plans have no tax liability and are paid gross as a result.
Shopping is VAT-free, Gibraltar has no inheritance or capital gains tax and, for those interested in starting a business, corporation tax is capped at 10 per cent. Given the tiny size of the territory, properties are value for money and sought after, especially if located near one of the two marinas or on the waterfront.
EDIT 09/05/13 - The tax relief highlighted on property purchases is not available to those opting for our "Cat 2" tax residence scheme. The relief is for existing ordinary residents of Gibraltar who offset this as an allowance against earned income.