US H-1B Employment Visa Lottery for 2014 is Already Complete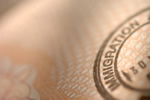 The H-1B is a non-immigrant employment-based visa which allows US businesses to hire a foreign national within a speciality occupation – that which requires a body of expert knowledge within a particular field for example engineering, chemistry, medicine and law, and a bachelor's degree or equivalent qualification at a minimum.
For the first year since 2008 there is a 'lottery' available for the H-1B visa category by which a certain number of applications can be filed before the statutory cap.
This year, approximately 124,000 petitions were received by the USCIS (US Citizenship and Immigration Services) within the first five days of April for the start of the fiscal year 2014. The lottery process to select 20,000 petitions under the Advanced Degree category, and 65,000 for the general and remaining Advanced Degree was completed on Sunday 7th April.
The initial petitions will be randomly generated by computer with unique numerical identifiers to be processed further, and then be sent to the relevant service centres for more detailed selection.
USCIS may 'wait list' some petitions for this visa, which may potentially replace petitions which are subsequently withdrawn, found ineligible or denied on some grounds. USCIS will retain these petitions until a decision is made as to whether they are able to replace an existing application.
According to the PTI report, the lottery for the H-1B cap was last used in April 2008, when the cap was filled on the first day itself.