NZ immigration bans returning Chinese students for academic failure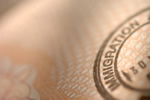 Chinese holders of student visas returning from celebrating the Lunar New Year in their home country have been banned from re-entering the country due to their poor academic performance.
According to the New Zealand Herald, Auckland Airport immigration officers refused entry to 14 students out of the 32 stopped at the immigration checkpoint, with visas cancelled and several students put on flights leaving for the Chinese mainland. Border control officers interviewed the 32 Chinese, with one refused entry because of his lack of skill in the English language.
Students affected were from the New Zealand Institute of Studies, Prime International College and other institutes, with one enrolled on the latter's business programme deported to China as he had not made progress in his studies. A spokeswoman from Prime stated that doubtful bona fides and suspicions that the students were not genuine was the reason for the denials of entry.
An Auckland immigration official declined to comment when approached by the media, but it's known that 28 students are being investigated and assessed, with another 35 being granted visas giving permission to continue their studies. During random checks in 2011 at New Zealand Immigration's Beijing office, investigating officers uncovered at least 300 fraudulent applications for student visas, with 2012's figures as yet unreleased.