Powerful voices call for seizing of opportunities for immigration reform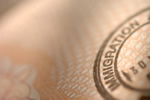 The US Chamber of Commerce and the AFL-CIO are putting the message across that the USA's immigration system is broken beyond repair and needs complete reform.
The system, say the powerful institutions, isn't just broken for Latino migrants and illegal immigrants, it's broken for everyday employees and businesses of all shapes and sizes. The historic joint statement by the two organisations calls for reform that actually works, both for employers and their employees.
It's a significant moment in the immigration debate, with two often opposing factions coming together to attempt to influence an unsustainable problem and find a solution. The set of principles, they say, established by the collaboration should be used to guide all discussions concerning the future flow of labour into the US.
Surprisingly, both state that the market-driven needs of employers cannot always be met with American labour, a problem that needs to be solved quickly and efficiently in order to boost the still-ailing US economy. All workers, no matter where they come from, should be fully and legally protected as to working conditions and fair wages.
The joint statement by two previously opposing factors should serve as a reminder to Congress and the House of Representatives that immigration issues affect all Americans, not just single communities. If the two organisations can come together to urge a common- sense approach, they should be joined by the government and by the American people in a successful attempt to put the immigration issue to rest and move forward as a great nation.