Canadian immigration sued by Chinese migrants over processing delays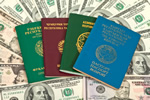 Lawyer Timothy Leahy is acting on behalf of a class action by 46 Chinese applicants under the investor immigrant programme, citing the 'warehousing' of their applications.
Leahy is claiming that, between 2004 and 2008, Canada's Citizen and Immigration department accepted a huge number of applicants for its skilled worker programme, knowing there would be no chance of the majority being processed before quotas were reduced. Similarly, an increase in the required level of funds for the investor visa was announced before the backlog of applicants was cleared, and later applicants are now being prioritised over those still awaiting processing.
Leahy also claims that the backlog of uncleared skilled worker programme applicants was simply abolished, leaving those who had paid the fees and put their lives on hold with the only option of reapplying and joining the back of the queue. Last December, a Canadian Federal court dismissed an action brought by 14 Chinese immigrants, citing that the legislation against which they were claiming does not yet exist.
Lawyer Leahy is now pressing a lawsuit to the same court on behalf of the 46 Chinese would-be investors, and is expecting another 76 immigrants to join with the group. Canada's immigration department declined to comment to the press, leading Leahy to state that untrustworthy and treacherous behaviour is now a fundamental issue in the Canadian immigration programme.