Australia grants Mike Tyson visa after New Zealand rejection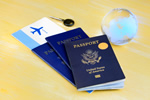 The long-running will-they won't-they saga of Mike Tyson's Australian entertainment visa has ended in victory for the reformed rapist.
The former world heavyweight boxer booked to tell the inspirational story of his life change after his conviction and sentencing for rape in 1992 will now be allowed to enter the country and star in the Day of the Champions presentations. However, it's not all good news on the visa front for Tyson, as his initial visa approval to enter New Zealand following a request by a charity has now been revoked due to the charity withdrawing its support.
Tyson will speak in five major Australian cities including Sydney, with the tour lasting through the month of November. Initially, doubts were cast by Australian immigration officials as to whether his rape conviction and time served would make him ineligible for a visa.
A spokeswoman for the Department of Immigration and Citizenship, Clan Manton, told the media that the pros and cons of the ex-boxer's visit were debated very seriously due to the nature of his crime and his conviction. She added that, considering the short duration and stated reason for his visit, the committee had decided the chance of him re-offending was very low.
Manton pointed out that Tyson had been informed that his visa would be immediately revoked if he broke any Australian laws. When asked about the withdrawal of the New Zealand visa, Tyson replied it was just one of those things that happen in life, and that everyone has to deal with uncertainties from time to time.