New Zealand confirms record numbers leaving for Australia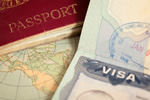 A record number of emigrants have left New Zealand over the last year to look for better economic opportunities in Australia, according to recently released statistics. Statistics New Zealand has reported that 53,900 people crossed the Tasman in the 12 months to July.
The latest emigration figures are a significant increase on the 46,450 New Zealanders who relocated to Australia over the same period a year earlier. Statistics New Zealand has also revealed that there has been no net influx of people into the country.
Over the past year 14,000 migrants have come in from the UK, historically New Zealand's biggest source of foreign arrivals. It also reported that the same number had entered the country from Australia, but that nearly all of these were New Zealanders who had decided to return home.
Because of the Closer Economic Relations agreement Australia has with its neighbour it is powerless to prevent an influx of economic refugees across its border. It is estimated that over the coming half-decade more than 100,000 Kiwis will have crossed the Tasman to settle in Australia.
Peter Conway, secretary of the New Zealand Council of Trade Unions, said those looking for a new life in Australia were economic refugees trying to escape unemployment and seeking wages which are, in terms of purchasing power, 20 per cent higher in Australia than at home.