New immigration crackdown requires ?20k salary for foreigners marrying Brits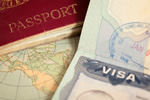 Under a new immigration crackdown, British nationals hoping to marry foreigners must now have to earn a £20,000 salary if they wish to establish their family in the UK. The planned reforms mean that lower-salaried Brits would be pressured to emigrate if they wished to be with a loved one from abroad.
Adding to the financial demands, if the non-British spouse has children, their UK partner will have to make at least £30,000, depending on how many kids they have. The couple will also need to pass a stringent 'combined attachment test' proving that they share a sincere loyalty to Britain, and not to another nation. The pair will also remain on probation during five years as opposed to the current two.
The reforms, due to be announced by Theresa May (UK Home Secretary), are expected to slash immigration, which currently stands at 250,000 per year, down by 25,000. The new legislation was primarily designed to oppose claims that many foreign nationals are marrying Britons to exploit the country's generous social welfare system.
In a recent interview on The Andrew Marr Show, the Home Secretary said it was important that those bringing spouses into the UK are able to support themselves and not depend on the state.