Young adult emigration makes Ireland population plummet by 12 percent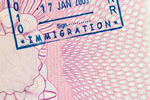 The figure of young adults living in Ireland has dropped by over one-tenth since 2006, reveal results from the April 2011 census. According to the Older and Younger report released by the Central Statistics Office, the age group 19 - 24 was the only one to decline, with a drop of 12%, since the previous census.
Young adults' emigration rates were a factor in the drop, said the report. But a high birth rate during the early 1980s compared to a lower birth rate during the late 1980s was cited as the main cause for this cohort's decline in population.
Every county in Ireland experienced a drop in its young adult population. However, the greatest drop-off took place in Galway city, which recorded a decline of over 25% since 2006.
Overall, Ireland's population has become older since 2006, as the average age went up by 50% per year to 36.1 years. Also recorded was a 5.8-year difference in median age between the youngest region (32.9 years in Fingal) and the oldest area (38.7 years in Cork city).
Galway, Limerick and Cork were the fastest ageing areas, showing a median rise in age of over a year.