Furious father accuses Irish PM of pushing his children to emigrate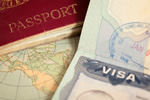 As reported by Irish Central, a furious father of three has accused Irish PM Enda Kenny of pushing his kids and their generation to leave Ireland in search of employment.
Peadar Doyle, a native of Westmeath, confronted the state leader during his EU Fiscal Treaty referendum campaign in Athlone. Mr Doyle went face to face with the Prime Minister as the head of state arrived at the shopping centre "Golden Island".
Mr Doyle was one of several demonstrators who clashed with Mr Kenny on the campaign trail. Doyle told Kenny that in 1958 he had no choice but to leave the country, before personally accusing the Prime Minister for forcing his children and grandchildren out as well.
The demonstrator revealed that one of his sons is already working and living in Wales, while another will be emigrating upon finishing college in Waterford. His daughter, who is about to take her final school exams, has also resigned to emigration, he added.
Doyle says that he is among those who have refused to pay the household charge. Whether or not he is breaking the law, he does not mind because he paid €60,000 worth of taxes upon returning to Ireland, he added.