Getting On Your Feet In New Zealand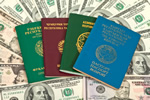 Getting On Your Feet In New Zealand
Once you've arrived and found secure, long-term lodgings, it's time to begin exploring and researching your new area. If you already have a job or are planning to look for work, your first enquiries will probably involve the transport network in your chosen area. If your location is in or around Auckland, you'll have plenty of transport options, including ferries, buses and overland train services.
However, the favourite form of travel in and around the city is by car, as the public transport network isn't exactly extensive. New arrivals in the country are able to drive on their country of origin licenses for a full year and, for regular cross-city journeys, hiring a car is a practical option, remembering that New Zealand drives on the left!
Bus travel is reliable in central districts although, due to crowded rush-hour roads, delays often occur. Costs are reasonable, usually between 50 NZ cents and NZ$1.70. However, journey and waiting times from the far-flung suburban areas are off-putting. Only three suburbs have overground rail links to the centre, with the Southern and Eastern line the most reliable. Ferries run along the shore and, in the rest of the country, bus services predominate.
If you've arrived en famille, schools are your main priority, with education standards excellent in state schools and even better in most private, fee-paying schools, a less expensive option than in many first-world countries. Most private schools encourage pupils to go for the International Baccalaureate examination and achieve high pass levels.
Becoming familiar with your locality as regards healthcare services, shops and entertainment options is straightforward with a little help from friendly neighbours or colleagues at work. Healthcare options are good in the public sector, although many migrants opt for private medical insurance in order to avoid waiting times for treatment of non-urgent ailments.
To truly enjoy your new life, meeting up with local people is essential. Communities in New Zealand welcome incomers, especially if they're into outdoor activities, with golf clubs and rugby matches all-time favourites. Local pubs are another great way to meet the neighbours and, if you have children in school, joining in with extra-curricular activities will pay dividends in extending your social circle. The cost of outdoor enjoyment varies from free, if walking, hiking or enjoying a day on the beach, to reasonable for most other leisure activities.