Welcome to the Emigration Destination Guide for emigrating to Spain here at emigrate.co.uk.
Immigration Spain - Migrating to Spain - Information About Immigrating To Spain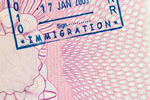 There are basically two kinds of work Visas in Spain, namely, the Transnational Work and Residence Authorization and the Temporary Work and Residence Authorization. If you plan to work as a local hire of a local company, you will need the second kind. Remember that you cannot convert from Visitor status to Work status while you are in the...
Latest Spain Emigration News: