Cost Of Living In New Zealand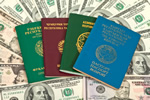 Cost Of Living In New Zealand
Given the enjoyable lifestyle in New Zealand, the cost of living gives value for money in all sectors and regions. Auckland is the most expensive city for housing and general costs, but wages here are at a higher rate than in the rest of New Zealand, balancing out the increased cost of living. Basically the further south you go, the less you pay out for everyday living costs and the lower the wage structure, again creating a balance.
For example, on average a basket of food is 25 per cent dearer than in the UK as many of the foods are imported, although the NZ Goods and Services Tax (GST) is lower at 15 per cent than the UK's 20 per cent Value Added Tax. Imported white goods such as fridges and washing machines are more expensive than in the West, but new cars are comparable in price and fuel is cheaper than in the UK.
New Zealand-produced goods are the best buys, with quality standards similar to overseas versions, giving savings over imported goods. Admittedly at present, the cost of living is on an upward curve in line with the global trend, with 2011's average 4.5 per cent, spurred by increases in fuel, cigarettes and food and the increase of 2.5 per cent in GST. Trade unions and consumer groups are watching the situation closely.
Mercer's 2011 Worldwide Cost of Living survey for 2011 ranks Auckland, the most expensive New Zealand city, as number 118 in its list of the world's most expensive cities, below most major Asia-Pacific cities. A senior associate of the company stated that after the release of the survey, New Zealand is still an attractive destination for migrants and a competitive location for multinational businesses.
Entertainment costs are similar to those in the West, with a meal out averaging NZ$20-50 per person and a takeaway around NZ$10-20 per person. Rent on a two-bedroomed apartment in Auckland averages NZ$1,250 per month, with utilities at around NZ$100 per month and telephone/internet charges at NZ$100. Local property taxes and water rates vary around the country. Transportation varies, with train and bus the cheapest.
Healthcare in New Zealand is high quality and cheap, with children treated free and local doctors charging around NZ$50 per appointment. Hospital care is free for residents, although for major operations it's better to go private via reasonably-priced health insurance. Dental care is on a private basis and is expensive.