IT And Internet Jobs In New Zealand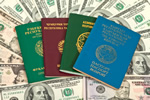 IT And Internet Jobs In New Zealand
As with all first-world countries, New Zealand's requirements for qualified, experienced IT professionals in all sectors of the field give plenty of job opportunities, particularly in Auckland, Christchurch and the country's capital, Wellington. The best place to start your job search is online, with various recruitment agencies specialising in IT jobs across the board. Companies requiring staff also advertise in national and local media.
Positions are either permanent or contract, with salary levels dependent on location. For example, a Net Developer position offered in Christchurch is described as a 'growth role' involving work on project-based development. Stressed is the friendly, modern environment as well as the sharing of ideas and the lack of boring support and maintenance duties. The employer is happy to consider international applicants and the salary is NZ$75,000 a year.
A contract position in Auckland for a Programme Manager with experience of large-scale business-oriented programmes is also open to international job-seekers. The company is in a phenomenal growth phase and the position is challenging. Requirements include three year's experience in a similar position, excellent verbal and written communications as well as interpersonal skills and the ability to manage high-level stakeholders in a friendly, positive manner.
An Intermediate Test Analyst is required in Wellington, hopefully with previous experience in SQL projects or other comparable legacy upgrade projects. The job description mentions a healthy work/lifestyle balance, friendly and fabulously well-fitted work environment and asks for applicants with initiative and the ability to work unsupervised. Salary is around NZ$65,000, dependent on qualifications and experience and international applicants will be considered.
A New Zealand market leader in Auckland is searching for a Senior DAM Architect, offering an excellent salary package including extra benefits. The permanent career position involves responsibility for the Enterprise Data and Asset Management vision and its development, authentication and solution design taking into account current and future business needs. More than 10 years' experience in domain and solutions architecture as well as cross-domain integration is required, with proven team leadership a distinct advantage and high-level qualifications essential.
For intermediate-level software developers looking to relocate to New Zealand, a Wellington company is looking for an Intermediate Software Developer with at least two years' previous experience and knowledge of various programming languages. Experience with Android mobile database technologies and T-LQ scripting are an advantage, as is a strong interest in research and development in social media tools. An excellent salary with added benefits is on offer.