Student Cities In New Zealand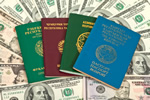 Student Cities In New Zealand
New Zealand is a favourite destination for international students at all levels from all over the world for its reasonable costs in comparison with other English-speaking countries and its extensive list of outdoor attractions and exciting things to do. Educational standards are high and the country's 'student cities' are amongst the most liveable anywhere on the planet.
Auckland, with its spectacular harbour location and laid-back lifestyle, is a multicultural city and the most cosmopolitan hub in the islands, with over 50,000 students in residence at any one time. Budget student accommodation is easy to find, ranging from homestays with local people to student hostel-style accommodation and shared apartments.
Dunedin lies at the southernmost tip of South Island and is one of New Zealand's favourite student cities, with over 25,000 international students taking courses every year. Study options include university courses, polytechnic diplomas or degrees and language courses, with accommodation in halls of residence, hostels, homestays or shared lodgings. Sporting facilities, entertainment and the fabulous natural environment are added attractions.
Palmerston North, known locally as 'Student City', combines language, polytechnic, university and technology courses for international students with a lively lifestyle amid the charms of rural New Zealand. Set on North Island, its affordable lifestyle includes outdoor and cultural activities and the city has a relatively youthful population.
Hamilton is set close to the beaches of the Bay of Plenty and an easy drive from hot springs, adventure sports and winter ski resorts. Home to almost 50,000 students, the city offers Waikato University studies, language schools and polytechnics as well as shopportunities, bars, cafés, eateries, student clubs and vibrant nightlife venues with underground bands and a hot live music scene.
Christchurch was a popular student destination, especially for English language courses, before the tragic early 2011 earthquake, and was beginning to recover when the late 2011 tremor struck. However, many of the schools are still open and offer a high standard of courses, plus the chance to help the city's economy and that of its businesses, hard hit by the disaster.
Wellington lies on the southernmost tip of New Zealand's North Island, with a wide choice of courses in all disciplines offered at university, polytechnic and college level, including courses at all levels in the English language. Its beautiful harbour, café society and stunning natural surroundings combine with its cosmopolitan city centre to make a great student experience.