Visas For New Zealand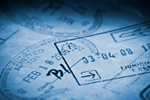 Visas For New Zealand
The New Zealand immigration service has a number of visa categories suitable for young persons' working holidays, skilled migration, temporary work permits and business migration into the country. Students may also apply for a visa which enables them to live and study in the country for a set period of time. There are also enablements for the partners and families of New Zealand citizens and residents as well as for migrants from Pacific nations and retirement visas for investors.
In general, visas linked to work permits in the Skilled Migrant category are only available to migrants with required qualifications who can fill skills shortages in specific fields according to the country's needs. A further category, Work to Residence, applies to those who have an existing job offer from a company listed as an accredited employer, or those who have exceptional talent in the arts or sport.
The Residence from Work Programme, (not to be confused with the Work to Residence programme as above) applies to migrants already in work in New Zealand who wish to apply for residence, and the Family Stream programme refers to those wishing to work after joining family members already in the country. The length of working time allowed via Family Stream depends on the length of the family relationship with the applicant.
The Employees of Relocating Businesses Category is for key company employees who wish to relocate to New Zealand rather than finding a new job in their country of origin. Applicants need to have worked for the relocating company for at least two years, and may bring their partner and dependent children with them under certain circumstances.
Student visas are required for study courses longer than three months, with an exception for Australian citizens, who may arrive and stay visa-free for the length of their course. Students arriving on an approved exchange scheme also require student visas, dependent on health and character qualifications and the provision of an onward travel ticket dated at the end of the exchange scheme. Approved work exchange schemes also require visas.
There are special categories for Chinese, Filipino and Vietnamese workers, and a Temporary Retirement Category is available for those with sufficient funds to invest in New Zealand, extendable for longer than the initial two-year period. Migrants wishing to buy or open a business in New Zealand may apply via the Investment or Investment Plus categories and experienced business owners are covered by the Long-Term Business Visa category and can apply for residence under the Entrepreneur/Entrepreneur Plus categories.