Skilled Workers And The Points-based System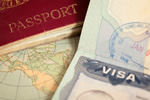 Skilled Workers And The Points-based System
The Skilled Migrant category (SMC) offers professionals in required fields the opportunity to permanently live and work in New Zealand. Eligibility depends on a good knowledge of the English language, experience and qualifications, good health, good character and an age of 55 or under. The first step is to complete an Expression of Interest (EOI), giving personal details and those of family members, relevant skills and experience in your sector of employment.
Points are calculated on age, employability, experience and qualifications, with an Invitation to Employ sent if enough points are scored. The invitation form should be returned with all supporting documents and proofs. At least 100 points are required for an application to be placed in a 'pool', with selection of EOIs taking place twice a month.
The majority of points are awarded for job offers in technical, managerial and specialist fields, for qualifications and for skilled work experience. Job offers in these fields command 50-60 points, with bonuses for partners with skilled job offers or offers in certain professions.
Two years' employment in certain industries also rates a bonus and recognised academic or professional qualifications are awarded 50-60 points plus bonuses. Age points range between 5 and 30 and 10 points are given to those with close family having residence or citizenship within New Zealand.
An International English Language Testing System (ILETS) score of a minimum of 6.5 in either the Academic or General modules, achieved not more than two years prior to application, is required. Exceptions are made for those who can show proof of an English course taught exclusively in the language, or have other evidence of competence. Partners and children must also have skills in the language.
The list of skilled occupations can be found in full at http://www.immigration.govt.nz/, and includes accountants, entertainers, acupuncturists, pilots, air transport professionals, agricultural scientists, architects, barristers, specialised health professionals, construction managers, engineers, finance professionals, doctors, journalists and much more. However, changes in December 2011 have reduced the skills shortages list, formerly a good indication of success in entry. The revised list can be checked online at http://www.immigration.govt.nz/opsmanual/ for sectors, skills and essential qualifications.
Other qualifications such as City and Guilds certificates and apprenticeships may be accepted. They are also listed on the NZ government's immigration site and will gain points if they relate to certain employment categories. Unfortunately, points cannot be awarded if your job experience is in a self-employed single-owner business, no matter what your speciality or qualifications.