Business And Long-stay Visas For New Zealand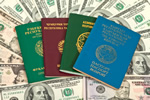 Business And Long-stay Visas For New Zealand
There are several options for business and long-stay visas offered by the New Zealand government, involving 'temporary' stays for several years or more and permanent stays linked to residency.
Business visas fall into two categories – standard and plus, referred to as Investor 2 and Investor 1 categories. The categories are designed to attract contributors to the country's economic growth, and are suitable for those with business expertise and capital.
Applicants in these two categories must be 65 years or younger and have capital to establish a business of NZ$ 1.5 million for Investor 1 or NZ$10 million for the Investor 2 programme. For both categories, either an English language background, competence in the language or a satisfactory IELTS test result is mandatory. Health and character requirements must be met, with a prison sentence or deportation from any country resulting in a refusal. Home country police certificates are required and will be checked.
The Entrepreneur and Entrepreneur Plus categories are for migrants already successfully engaged in business in New Zealand and are a route to residency, with a long-term business visa the first step. Requirements for Entrepreneur Plus include at least NZ$500,000 invested in the current business while holding a nine-month business visa, at least three new local jobs created and two years or more of New Zealand business ownership.
The standard Entrepreneur category's business capital requirements are unspecified, but business experience is mandatory, as is two years' self-employment in New Zealand and between two and three years' residence complying with the Long-term Business Visa Instructions. Business experience must be in the same sector as the submitted business plan.
For both Entrepreneur categories, IETLS 4 English language qualifications are required, and for both the Entrepreneur and Investor categories, partners and dependent children may apply for the relevant visas and arrive or stay in the country. The health and character requirements also apply.
Another option for long-stay self-employment is the Long Term Business category, generally regarded as the first step to an Entrepreneur or Investor visa. Applicants must be prepared to buy or otherwise establish a business after the initial nine-month visa has been approved, after which a full three-year work visa will be granted provided you meet the conditions.
Requirements include a sound business plan and knowledge of the New Zealand commercial environment and an explanation of how your proposed business will benefit New Zealand. Proof of relevant business experience is essential. Sufficient funds for support are required in addition to the initial business investment. Before the nine-month initial business visa expiries, progress must be demonstrated in the setting up and running of the business.