Getting About In New Zealand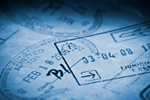 Getting About In New Zealand
New Zealand's public transport network is reliable and clean, although full coverage across both islands isn't available as yet due to the spectacular topography's effect on the cost of installing rail lines. Domestic air travel, often linked to car rental, is the preferred option nowadays, with rural roads leading to remote destinations and settlements and fast road connections between major cities. The favourite option for those with time, however, is still the car.
Other options include bus travel, reasonably fast and economical, with InterCity Coachline connecting more than 600 cities and towns and the charmingly-named Naked Bus company offering daily services between cities. Roads here are often narrow and twisting with spectacular views, making a bus journey a good way to relax and enjoy. Three bus companies, West Coast Shuttle, Southern Link and Atomic Shuttles, exclusively serve South Island.
Intercity rail services run between Auckland and Wellington, but are limited, slow and, like the rest of New Zealand's rail routes, comparatively expensive. On South Island, the coastal service from Christchurch to Picton runs along the rugged northeastern shores and connects on a daily basis with the ferry from North Island at Picton.
The TransAlpine route is regarded as one of the world's most magnificent train journeys, running across the island from coast to coast through the breathtaking, unspoiled scenery of the Southern Alps. For new arrivals in New Zealand, this is s stunning and unforgettable orientation trip, as much of the mountainous scenery is inaccessible by road.
In the early days of settlement, boat travel was the only alternative to the horse and cart, or even just the horse, and it's still a popular option today as well as the most scenic way to travel between the two islands. Ferries run several times daily across the Cook Strait between Wellington on North Island and Picton, although sudden changes in the weather may cause delays. For commuters in Auckland and Wellington, cross-harbour ferries offer a refreshing journey to and from work.
Domestic flights have become much cheaper over the last decade, particularly on inter-island routes. Air New Zealand and Jetstar offer a choice between full service and low-cost, with Jetstar the favourite for budget-conscious, no-frills air travel. Air New Zealand gives the most routes, connecting most cites with populations of over 20,000 and carrier links to smaller destinations. Both airlines offer an e-ticketing system, with flights able to be booked online, by phone or via a travel agent.