Insurance And Shipping Costs To New Zealand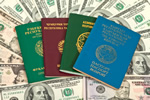 Insurance And Shipping Costs To New Zealand
The costs of shipping household goods by sea to New Zealand is dependent on distance, with New Zealand one of the most remote destinations in the world. Bulk sea shipments generally cost less than by air, but take far longer, with a wait of between two and four months the norm. Costs will also vary depending on which of New Zealand's many ports are used for docking. For example, Auckland, on the northern tip of North Island, is over 1,600kms to the north of Dunedin, set on the southern tip of South Island.
Both sea and air freight charges are calculated exactly by professional packers and shippers, based on the cubic feet volume of the total number of packages. The leaders in this highly competitive field don't just guess, they measure once packing is complete, thus saving money for their customers. Air freight of household and other goods is measured by volume weight, expressed in kilos, with a specific rate per kilo for each destination.
Shipping companies will only issue a quote when full details of the shipment and its owners have been given, including postcodes where applicable. Insurance is an essential option, particularly for sea shipments, which may encounter wild weather and rough seas. International shippers often link up with reliable insurance providers, giving slightly less expensive insurance quotes than stand-alone providers.
Household Goods and Personal Effects insurance is effected by specialist marine insurers, and normally covers packing, collection, sea shipping, customs clearance and delivery to your home. Goods in storage in the destination country can also be covered if you're not ready to accept them, and motor vehicle shipping is also covered. Rates, calculated as a percentage of the insured value of the goods, may be reduced if you're using the shipping company's professional packers and containers, with the saving set against the shipping costs.
Exact descriptions of your goods, their condition and their value will be requested by the insurance agency, as well as by the shipping company and the New Zealand Customs authority. Your shipping company will be able to advise on rules and regulations for importation of household effects in the country, together with lists of prohibited imports. Shipping is one sector of your move that is definitely better left to the professionals!