Bringing Your Pets To New Zealand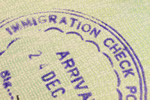 Bringing Your Pets To New Zealand
Recent changes to New Zealand's regulations on importing dogs and cats from the UK have overturned the previous lack of a quarantine period. The new rules came into effect on 28 June 2011, with the requirement of 10 days in quarantine for all dogs and cats from the UK. Quarantine facilities are well established at five locations, with three in Auckland and one each in Christchurch and Wellington, although pets must enter via Auckland and be transferred to the southern facilities.
In addition, changes have been made to the tests required before importation, with previously compulsory faecal tests no longer required for either species.
However, New Zealand is rabies-free, and takes the often fatal disease very seriously, with all unvaccinated pets needing initial rabies vaccinations at a time between a year and six months before importation.
Evidence of rabies vaccination must be provided and, for pets with previous vaccinations not more than a year before arrival, blood tests need to have been taken not more than two years before or less than three months prior to shipment. All other vaccinations need to be up to date according the quarantine regulations, and all animals must be microchipped.
Dogs and cats are the only pets allowed for importation, and they must be transported by air as manifest cargo in an IATA-approved box. Excess baggage transportation is not allowed, and all imported pets must arrive at Auckland International Airport after spending at least six months in the owner's country of origin. Certain breeds considered to be dangerous, including American Pit Bulls, Dogo Argentines, Japanese Tosas, Brazilian Filas and crossbreeds of these dogs, cannot be imported.
Import permits are not needed at present, although DEFRA export permits from the home country are required by New Zealand Customs. Your home country veterinary surgeon (veterinarian) can advise on the procedure as well as providing the necessary vaccinations and tests. Internal parasite treatments must be administered between 21 days and 96 hours before the journey and an insecticidal spray or dip for exterior parasites must be given between 48 and 96 hours prior to transportation.
Other requirements include tests for canine diseases such as Leptospirosis, Brucella canis, Erlichia, Babasia gibsoni and heartworm, and the DEFRA declaration stating clearance from notifiable medical conditions must be signed by the veterinary at Auckland Airport before the pet can be admitted. Rough costs of transporting a small dog or cat from the UK average around £1,400, including vets' fees.