The UK Worker And Student Points-based Immigration System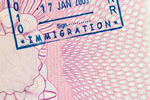 The UK Worker And Student Points-based Immigration System
For migrants wishing to work or study in the UK, a points-based visa system is in place, dependent on various requirements. In addition, those arriving from non-EU countries may need to provide more information. As immigration control is currently being tightened, reference to www.ukba.homeoffice.gov.uk/visas-immigration is recommended. The site also contains a points-based calculator.
General points-based system information
The points-based system uses five tiers, although Tier 3, relating to low-skilled workers on short-term contracts in response to labour shortages, is currently suspended.
? Tier 1: covers scientists, entrepreneurs and other highly skilled workers and has been closed since April 2011.
? Tier 2: quota-based and covers teachers, nurses and other skilled workers. A job offer is mandatory.
? Tier 3: covers unskilled workers for specific short-term labour – now temporarily suspended.
? Tier 4: covers students.
? Tier 5: covers temporary workers, including those in the government Youth Mobility Scheme and artists or musicians arriving to take part in a specific event.
Other requirements
For Tiers 2 and 5, applicants must provide a Certificate of Sponsorship from an employer, and for Tier 4 a Confirmation of Acceptance for Study from a government–licensed university, college or language school is required. Proven competence in the English language is mandatory since April 2011 for student applicants. EU citizens may enter and work or study without a visa, although those from Romania and Bulgaria, (EU2 countries not yet full members) will need specific permission.
The points system for prospective workers
For Tiers 1 through 5, the points system is complicated, as each Tier has sub-categories, many of which only allow a certain number of applicants every year. Once the number of places is filled, the category closes until the following year. For full information on which categories are accepting applicants, please go to
http://www.ukba.homeoffice.gov.uk/visas-immigration/working/
The points system for prospective students
Prospective Tier 4 general students must score 40 points on assessment, with 30 allocated to an acceptance for study by a registered Tier 4 sponsor educational establishment, and 10 for proof of means of support. Biometric information – fingerprints and a photograph – is also required.
Adult students may be able to work in the UK while they study. Applicants already in the UK under a different visa scheme will not have to provide identity documents, provided they are a national of certain countries in a list found on the UK Border Agency's website, or an overseas British national.