Privileges Per Nationality In The UK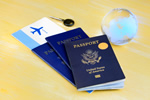 Privileges Per Nationality In The UK
The UK Border Agency's rules and regulations for immigration into the country depend heavily on each prospective migrant's country of origin and range from straightforward to extremely complicated. Those from non-European Union countries wishing to live and work in the UK should check the agency's website on a regular basis as ongoing changes are taking place.
In general, citizens of EU member states and the European Economic Area (EEA) may enter, live and work in the UK for an indefinite period free of any visa needs, as can Swiss nationals. For this privileged group, permission is also extended to dependent family members, unless they are from non-EU countries,
Family members from non-EU and EEA states will need to apply for an EEA family permit, only granted if the family is travelling with or to join an EU national based in the UK. If the UK national is based outside the countries listed on the agency's website, his or her dependents must apply for visas through the normal channels.
In addition, nationals of the EU(2) states of Bulgaria and Romania, although free movement between EU member state is permitted, are not allowed to live in the UK for more than three months without permission to remain. Neither are they allowed to work visa-free in the UK except in self-employment unless they are the spouse or civil partner of a UK national or a family member of an EEA national with a right to reside and work.
For migrants from outside the EU, Switzerland and the EEA, whatever their status, settling in the UK is more difficult, as regulations were tightened in April and November 2011 in a government move to reduce the number of economic migrants. Further restrictive measures are expected in 2012 as part of the government's austerity measures and the agency's website can be confusing to non-native English speakers.
Briefly, migrants from all non-EU/EEA based countries must satisfy a points-based system to gain entry to the UK to live and/or work. The types of visa are categorised and capped to a certain number each year, with the categories closed when full. A job and sponsorship offer is usually necessary, although skilled job categories were also reduced in 2011. Using a legal firm based in the UK and specialising in visas is recommended, as the routes still available for non-EU/EEA nationals are complicated and may change at any time.