Popular Cities And Sightseeing In The UK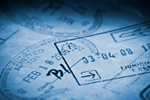 Popular Cities And Sightseeing In The UK
The four nations which make up the UK, England, Scotland, Wales and Northern Ireland, are places of ancient history, spectacular landmarks and monuments, architecture from monumental to picturesque and breathtaking natural topography ranging from mountains to moors and many miles of glorious coastline. There's something for everyone here and, for new arrivals, touring the sights gives an enhanced understanding of Britain's cultural make-up.
If you're planning to settle in London, you're at the heart of England's fascinating history, which began during the Roman era with the arrival of Roman legions in 43 AD. Great buildings have marked the ages since, with medieval period treasures such as Westminster Abbey and the winding alleyways of London's old city with their Crusader churches and City Guilds.
Heading to the West Country and Cornwall, you'll pass through the lands around Salisbury, one of the oldest cities in England, with nearby Stonehenge a remnant of prehistoric times as early as 5,000 years ago. Shakespeare's city of Stratford on Avon is within an easy drive, with its charming medieval centre.
For elegant Georgian glory in architecture, Bath is the place, famous since Roman times for its mineral waters and since the 18th century for its Georgian-style crescents and squares. At the end of the long road to Cornwall, visitors will find splendid beaches, the warmest climate in the UK and charming coastal villages. On the north Cornish coast is ancient Tintagel Castle, home to the Arthurian legends, as is Glastonbury in Somerset, also famed for its Holy Grail legend.
Heading north from London to Birmingham, Manchester and Leeds, the Midlands and the northeast and northwest of England cradled the Industrial Revolution in their manufacturing and processing heartlands, while the wealthy London mine, factory and mill-owners lived in luxury along with the titled gentry in massive stately homes, many of which are now open to the public.
York is a must-see for its Roman, Viking, Saxon and medieval past, with magnificent York Minster towering over the modern city. Heading further north and crossing the Scottish border past Alnwick Castle, Edinburgh with its iconic castle and famous summer music and arts festival tells of the troubled times leading to the Scottish Diaspora.
The mountains of Wales, Land of Song, the vast, lonely Yorkshire moors, the Derbyshire Peak District, mysterious Dartmoor in the southwest, the Pennine Range, the Lake District and the remote Scottish highlands and islands are part of the UK's never-ending story, in which all its peoples play a part.