Renting A Home In The UK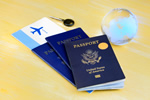 Renting A Home In The UK
For new arrivals, renting your first UK home is the easiest way to begin the adjustment process, with everything from luxury homes in the centre of London to terraced houses, apartments and shared accommodation available. Unfurnished as well as fully furnished properties can be rented, either on a short- or long-term basis.
There are several routes to a rental home in the UK, including the classified advertisement pages of national and local newspapers and the use of accommodation and rental agencies or the rental arms of local estate agencies. If you're arriving on an intra-company transfer or as a student, your employer or university may be able to help.
The advantages of using an established letting agent are several, with agents usually knowing the landlord of your preferred property, as well as knowing exactly what you are looking for, thus saving your valuable time by not showing you unsuitable properties. Most rental accommodation these days is owned by private landlords and is kept in good order as regards contents and services.
Most importantly, your letting agent will advise on which districts to avoid and which are conveniently located for transport options in the area, good schools if you have a family, and healthcare options for those with young children or existing health problems which require monitoring
Renting a home will involve a legal contract, signed by both tenant and landlord. Several months' rent and a deposit are almost always required although the deposit is normally refundable at the end of the tenancy unless damage has occurred to the property. The letting agent will also charge a fee for services rendered.
Tenants should make sure the property confirms to the stringent UK health and safety rules, which include regulations on gas and electricity supplies and an emergency exit in case of fire in modern apartment buildings of over three storeys. Smoke alarms should be fitted, and older gas-fired boilers used for heating water should have a maintenance certificate.
In a shared house, fire extinguishers should be provided as well as flame- retardant treated soft furnishings, and a professional approach to renting your home should take into account all safety standards including window and door locks if you intend to insure your possessions. Other points to watch out for include the interior and exterior condition of the property. If there is any doubt, it's time to view another property.