Property Agents In The UK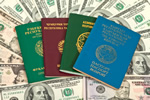 Property Agents In The UK
There's plenty of help with selecting the right UK property for your needs as estate agents are located on every high street and in every city centre across the country, usually in plural numbers. In Bond Street, Mayfair and Knightsbridge, the heart of London's city centre, are exclusive agencies offering top-of-the range properties from new-built luxury apartments to historic mansions in the capital and other desirable areas of the UK.
A major player in the upscale field, Knight Frank, has offices in the West End of London and a useful index of luxury property values published on their website, http://www.knightfrank.co.uk/. The agency deals in executive and luxury homes of all types in the best London districts as well as town and country properties of a high standard in other fashionable UK regions.
Another famous name in the high-end property market, also famous for its high-end antiques auctions, is Christies International Real Estate, specialising in the finest luxury real estate in the UK and other parts of the world. Their offices are in King Street, St James' and their website, http://www.christiesrealestate.com, gives full illustrated details of properties available.
Foxtons is another well-known inner London estate agency, with offices in Islington, Clerkenwell and other upscale London districts, as well as an award-winning website at http://www.foxtons.co.uk/. Their property portfolio is varied and extensive, covering districts good for workers in the City and central areas of the capital and including rental properties as well as those for sale.
The best way to research the general UK property market for those looking for less exalted residences is via the internet, with sites such as www.rightmove.co.uk and www.londonpropertyfinders.co.uk giving details of tens of thousands of homes for sale and rent across the UK, together with links to the estate agent listed for each property.
A favourite with incomers is www.upmystreet.com, which not only gives a huge choice of estate agents and their available properties, but also includes details of the town, district and area as regards schools, shopping facilities and much more. Getting an idea of the areas in which you would like to live is easier by checking online first and then approaching estate agents in your chosen district.
For those looking for property to purchase in Scotland, Bell Ingrams is an agency with a 110-year history and offices across the land. Purchasing a house in Scotland involves a different process, with the company and its legal contacts highly experienced in taking incomers through the complicated process. Their website at http://www.bellingram.co.uk/ gives full details of homes for sale in the cities and Scotland's stunning Highlands and Islands.