Buying A Home In The UK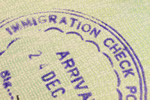 Buying A Home In The UK
Buying property in the UK, whether it's leasehold or freehold, is a complex, time-consuming process, especially if the seller is also in the process of buying a home, creating a chain which relies on everything going smoothly. The home of your choice can be found either online, through an estate agent or the classified advertisements pages of local or national media.
Once you have found your ideal home and agreed to a price with the seller, the first step if you're not buying in cash is to check whether you are eligible for a mortgage. Estate agents work in tandem with mortgage brokers able to access banks providing home loans, and can advise on the type of mortgage most suitable for your needs.
At present, few banks are offering 100 per cent mortgages, so you will need to finance at least 20 per cent of the agreed price of the property. Other charges will not need to be paid until the deal is done, but will include costs such as a lawyer to draw up the contract and provide an escrow account for your deposit, returnable if the seller pulls out before contracts are exchanged.
You will need a valuation of the property, usually arranged by your mortgage lender, or by a valuer recommended by your estate agent if you are paying cash.
If the valuation contains negative points, you may wish to renegotiate the price.
You should also request a homebuyer's survey, to ensure no major work needs doing and that all titles to the property are legally correct.
After all checks have been made and the contract drawn up, it will be signed by both parties (exchange of contract), after which you will lose your deposit if you decide not to proceed. At this point, a completion of contract date on which you can move in is usually agreed, although this can be set back by mutual agreement if problems occur.
Between exchange of contract and completion, you will be expected by your lender to arrange for full buildings insurance coverage on the property. On the completion date, the balance due on the property will be transferred to the seller's bank account and you can move in. Extra charges incurred may include stamp duty tax on the property's value, mortgage fees, and extras provided by your lawyer on top of the agreed charge for services.