Getting On Your Feet In The UK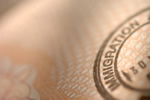 Getting On Your Feet In The UK
Once you're settled in secure, long-term accommodation, you'll need to spend time getting used to your new environment. If you're starting work, you'll need to work out the best transport connections to your place of employment as regards travel time and cost, dependent on your location in the country and working hours.
If London is now your home, London Underground (known as the 'Tube') is your best bet, with setting up an Oyster Card for payment of fares the most convenient and giving a savings of up to 30 per cent on weekly costs. It can also be used on London's extensive bus network, saving time using a ticket machine.
Apart from Glasgow, which has a limited underground rail system, other large UK cities in the UK offer rapid transport options to the city centre, with Manchester's the most developed. Fares are similar but slightly lower than in London, and bus travel is another option although much slower during rush hours due to the volume of traffic.
If you're planning to commute from attractive locations outside major cities excepting the capital, self-drive is possible, with prices of new and used cars in the UK lower than in many other countries. Roads are good across the UK, although most city centres are crowded during rush hour.
If you've arrived with your family, the necessity of getting your children into a good school may mean private education, costly but unaffected by the present problems of understaffing and overcrowding in the UK's state-funded schools. This may mean travelling twice daily to drop off and collect your children, making a car essential.
Getting to know your district as regards shops, local doctors, dentists and other essential service providers is straightforward, and all entrants to the UK from EU/EEA countries and Switzerland are entitled to free medical care under the National Health Service. You may, however, prefer to opt for private healthcare through a health costs insurance policy in order to take advantage of shorter waiting times and better service as regards accommodation and meals.
One of the most important aspects of settling into a new life is to get to know the locals. If you're into sports, fitness, golf or enjoy a pint of beer in your local pub, it's easy to meet up with your neighbours. Your children's' school will also welcome your input as part of Parent-Teacher groups and you'll meet like-minded parents.