UK Property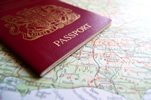 UK Property
One of the first questions in migrants' minds during the planning stages of relocating to the UK is 'where shall I live?' The fortunate few arriving to take up managerial positions with established companies may find it's all been arranged, but for the rest, the varying types and costs of accommodation across the country may be confusing.
Buying or renting are the obvious options, once you've chosen your location, with huge price variations at all levels dependent on area and amenities in both sectors. Again, obviously, London is one of the most expensive cities in the world and property in the south of England within reach of the metropolis reflects the trend, whether you're renting or buying. On a sliding scale, the farther north you venture, the cheaper your housing costs will be, with the exception of fashionable enclaves in major cities and pretty villages within easy work and leisure access to city centres. In the southwest, demand for second homes in areas of natural beauty close to the coast has forced prices to a high level as well.
Over the last several years, the UK housing market has suffered from banks' reluctance to lend on mortgages, causing a slump in prices except in upscale areas where prices are still escalating. The UK housing stock in towns and cities varies between homes built in the Edwardian, Victorian or Georgian periods, between-war developments and more modern houses and apartment blocks up to the present day, usually found in community-based complexes. The cheapest options at present are found in small Victorian terraces in the north of England around large cities such as Manchester.
Renting is the preferred option for most new arrivals in the UK, with London the most expensive at all levels. Buy-to-let has been a popular investment strategy for a number of years, with rental charges rising to the extent that it's now cheaper to service a mortgage than to rent. Choosing your London district wisely, however, can save money, with local landlords often advertising in local newspapers. Rental accommodation varies between houses, apartments, studio flats, shared houses, and single rooms.
If you're planning to seek employment once you've settled in, it may be more financially practical to live within commuting distance of your job rather than in a central city district, although transport costs are high in the UK. For students planning to attend one or two-year courses, your university, college or school should have a list of suitable accommodation on and off campus and established students may be able to point you in the right direction. Student towns in the UK occasionally offer hostel accommodation in addition.